HONED's founder and resident designer, Claire Kinder Barrett, produces jewelry and art in her verdant lair, a Madrona storefront known as HONED by Claire Kinder. Claire is a Seattle-based fine jewelry line specializing in engagement, modern heirlooms, and intricate forms of a distinct style we like to call "micro-architecture." She loves playing with the way various materials and planes interact with one another. Claire's dedication to quality drives her greatest passion: to create a tiny piece of art that will last generations.
Claire holds a BFA in classic goldsmithing from Pratt Institute (Brooklyn, NY) where she graduated from in Spring 2008. She and her fiancé moved to Seattle from Brooklyn in November of 2016, and opened the doors of HONED's first location just 3 months after arriving. Originally from Vermont, the Pacific Northwest seemed like the perfect combination of the Green Mountains she grew up in, and the city where she came of age.
M. Hisae is the jewelry portfolio of Northwest Connecticut-based artist Michelle Hisae Meronek. Her work transforms concepts of art, object, and Earth into symbols of commitment, to self and others. She sees jewelry as a powerful tool in honoring desire and utilizing beauty to raise one's level of being. Michelle's work is a constant exploration into the unspoken languages of a bi-cultural existence. Her inspiration is rooted in her Japanese and Eastern European heritages, travels throughout the American Southwest, Modernist and Bauhaus art, furniture, architecture, feminine-masculine inquiries, and her continuous spiritual study.
Gritty Jewelry is the brain child of Seattle resident, Mary Kim Merritt, aka Kim. Every piece in the Gritty Jewelry design catalog is destined to be wearable art and are the perfect blend of grit & glamour, well-crafted to survive mosh-pits, yet classic and fashionable for cocktail parties. Miniature effigies of iconic objects, acknowledging the gritty under-belly of early-Americana. Every component is made by hand and coated with a patina that will change over time according to the wearer.
Gritty is lighthearted, but a little twisted because of Kim's dark sense of humor. You'll definitely see her Southern roots show through here.
The jewelry of Joseph Brooks embodies sensuality and strength, handcraft and raw beauty, the bedrock and punk rock. With an interest in stone properties and energies, from tourmaline to spirit quartz to black onyx, every piece in his extensive line highlights the true essence of each handpicked stone. Drawn initially to American turquoise which is difficult to find in a world of mostly fake and dyed stones. He finally located a mine in northern Arizona whose owners have been operating and producing spectacular turquoise since 1962. These stones inspired Joseph to begin designing a jewelry collection featuring this signature Southwest stone. The collection has grown over time and now including over 70 different natural un-dyed gems and crystals.
In some way, this new pursuit is not new at all. As a boy growing up in Far Rockaway, New York, Joseph would spend hours studying rocks, minerals and shells at the American Museum of Natural History, and carefully gather and label specimens for his personal collection. Being a devoted international birdwatcher has brought him from Patagonia to the Amazon , the Andes to the Himalayas, Sumatra to Papua New Guinea with the hopes of spotting yet another rare species. All of these travels have also been another way in which Joseph has found gem treasures like sapphires in Sri Lanka , banded agates in Java, prayer beads on the Tibetan plateau and fossils in Madagascar. His love of ornithology is revealed on the tiny JB medallion that dangles off his individually crafted bracelets and necklaces,or stamped on his belts and rings.
Back in the Great Pacific Northwest after ten years in The Bay Area, Katie is embracing the cloud filled skies, sunflowers, and the heights of the great mountains. Nature has always cast its spell far and wide upon her wherever she lives. Each insect, flower, even the pebbles that grace the ground tell a story that can be shared as a script for her internal landscape.
Through the lens of HartVariations, Katie creates tangible representations of the beautiful and the visceral that are both regional and universal. Cruelty-free and sustainably sourced butterfly wings, feathers, bones, snakeskin, bees and other objects are chosen for their textures, shape, and colors as much as for the roles they play in the natural world. Using glass and metal, Katie creates unique reliquary jewelry that provides a wearable snapshot of the vitality and endurance of these natural elements, capturing them in designs that recall the past and turn our eyes to the ever expanding horizon.
HartVariations has evolved over the years to offer not only small batch handcrafted jewelry, but ritual objects as well: wall adornments, semi-precious gemstone altars, memorial jewelry, and more. Collaboration with each store and every client that owns one of our creations is exactly why I create this work. Connection is key.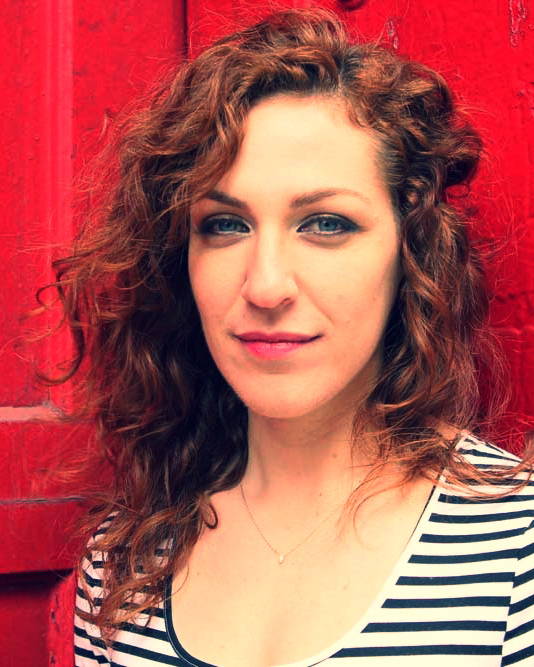 Sandy Rubin started making jewelry in 2005 with intricately wrapped wire and semiprecious elements and soon began to explore the depths of the jewelry making world. After moving to NYC in 2008 and working a low-paying entry-level corporate position, she leaned on her talents, saved money, and took metal smith classes in her spare time. She was bit by the jewelry bug as an avid rock collector and started to explore New York City's famed Diamond District. Historically, a very closed-door community, Sandy slowly began to develop relationships with skilled artisans and various gemstone and metal vendors by trading many of them her time and assistance in exchange for lessons and a deeper understanding and education.
It wasn't until 2011 when she was approached by her best friend's boyfriend to make her very first diamond engagement ring. Sandy felt a special connection with making commitment jewelry and believes strongly in celebrating the warmth, seeming "imperfections", simplicity, and intricacy of our relationships translated into jewelry.
Today, SRJ explores these characteristics in her collection and took it a step further in the Spring of 2018 when Sandy ventured on her very first solo cross-country "rock-hounding" road trip, to experience firsthand the intricacies of mining methods and identifying gemstones in their natural habitat with hope to incorporate her finds into her bespoke jewelry.
Susan Lorraine lives on Vashon Island, an slice of PNW country side just a short ferry ride to downtown Seattle. Susan has worked in a variety of jewelry professions throughout Seattle, and is slowly honing her production skills and methodically teacher herself to create unique designs that are a joy in their process.
Founded in 2011 on the idea that things that last shine brightest, our shop name, Fiat Lux, is an ancient Latin expression that means to create light or dispel ignorance, to get smart. Our goal is to empower you with jewelry meant to outlast the hills, a ring, a necklace, a bracelet, no matter how small or large, to be worn for the rest of your life & maybe even beyond.
FL designs & produces tools of confidence & work with some of the best small batch artists in the world who embody what we think of as refined grit. They love independence, elopements, science, underdogs, diamonds, fuck yous, and peeling back the layers. They're femme forward, urban, earnest, intentional, a little nasty & a little tongue in cheek about it all.
All of their work uses recycled gold & conflict free diamonds. On some days you can even find their production leads busy smelting gold scraps to give them new life for you.
Grace Gow is the artistic expression of Cat McCadden, who named her jewelry brand after her late Irish grandmother. Cat's art practice draws inspiration from the natural environment, the sea, and coastal culture. In her work, she mixes traditional metal smith fabrication techniques, the lost wax casting process and a edgy eye for design with other traditional gemstone and jewelry references. The result is a hybrid contemporary style with textural motifs and lively depictions of oceanic forms.
She has exhibited on the West and East coasts and currently sells her collection in over a dozen different cities from Boston, MA to Hanalei, HI and in museums including the Frye Art Museum Store and the Museum of Fine Art, Houston. Cat maintains a retail e-commerce website, develops commissioned sculptural pieces, develops private-label product design solutions and re-imagines family heirlooms into new modern pieces for private clients.
Born and raised in New Jersey, Cat earned her BA from Binghamton University in upstate New York, graduating with honors in Art History. She later studied art direction at The Creative Circus in Atlanta, GA and honed her technical jewelry-making skills at Pratt Fine Art and North Seattle Community College in Seattle.
She has been mentioned on the website DailyCandy.com, in GRAY Magazine, in Seattle Met Magazine numerous times and in the June 2017 Seattle jewelry round-up feature in Sunset Magazine. A portion of revenue generated is donated annually to the Long Beach Island Foundation for the Arts, Surfrider Foundation and Arts Corps.
Digby & Iona is the creation of designer and craftsman, Aaron Ruff. As a young boy growing up in Maine, Aaron was fascinated with the idea of stumbling upon hidden treasures and unearthing ancient relics. Created in 2006, the "Digby & Iona" namesake stems from a trip to Nova Scotia, taken before the company had ever been established. Feeling a connection with the small province and wanting to maintain a level of anonymity, Ruff chose to name his company after the two quiet seaside towns in Nova Scotia.
The son of a craftsman, Ruff has grown up with a strong sense of artistry and construction. Working as both a carpenter and cabinetmaker, he enrolled at Parsons to study furniture design. After taking a class in jewelry making, Ruff soon discovered his true craft. While enjoying the familiarity and technique of creating furniture, he found a more intimate connection with constructing objects that people could wear and cherish. This connection is distinct in each one of his well-crafted pieces.
Ruff now works out of his Brooklyn studio, creating jewelry inspired by everything from history and literature, to the design of nature and tools of necessity. Ruff also draws from his childhood fantasies of exploration, which lends a playful quality to his work.
Nina Raizel Hartman grew up in Seattle, WA and went to college at the Rhode Island School of Design in Providence, RI. After graduating in 2014 with a BFA in Jewelry and Metalsmithing, she moved back home to pursue a career in jewelry. Since then Nina has been creating jewelry in her Capitol Hill art studio, as well as working for other jewelers, and volunteering for the Seattle Metals Guild.
Nina constantly gets asked "Why jewelry?" and her best answer is, "I love making things that people love wearing." She love the way jewelry interacts with the body, but also has a life of its own, as well as the practicality of jewelry and the limitless expression that accompanies it. Nina makes jewelry based on conscious design, craft, and sustainability. Her goal is for her work to be beautiful, but more than that she want her jewelry to be a symbol for her environmental and social ethics.
Abacus Row was founded in 2012 by Christine Trac. Christine's work and appreciation for jewelry are shaped by a multicultural upbringing and an interdisciplinary background. She grew up in Olympia, Washington, where her parents and many other Vietnamese refugees settled in the early 1980s. From an early age, Christine learned to find balance in differences, to identify where things intersect, and how to create with limited resources. Christine views jewelry as objects of culture and identity and approaches her work with Abacus Row with an interdisciplinary interest. Christine attended the University of Washington and Yale University where she studied the implications of environmental conservation on local communities in SW China. While a departure from her current work, Christine's background in ethnography and conservation science influences how she sees the details in everyday routine and practices. She is inspired by both the natural ways in which things come together and the innovative approaches used to produce unexpected connections. Abacus Row is an on-going exploration of material and community intersections. Christine now resides in San Francisco, California.
Ariel Clute is a visual artist living in Berkeley, California.
Ariel graduated from CCA with a B.A. as an individualized major in 2008. She then proceeded to teach printmaking at Creative Growth Art Center in Oakland CA. Her days are now split between working in her studio and raising three young girls.
Each unique piece is created entirely by hand; incorporating a variety of materials, antique and new, local and foreign. She is presently focusing in ceramics creating hand built forms from slabs and coils for the home.